For the die-hard Weber fans among us, making pellet bombs in our gas grill was a hacky way to get the smokey flavor you wanted from a propane or natural gas grill. It was finicky, but it worked well enough that our dreams of cooking a delicious smoked turkey on a Weber were sated for the time being. But just when we were settling into our routine, Weber pulled out a new trick; the Smokfire Series pellet grill. SmokeFire is a genuine All-in-One grill that has the versatility to sear steak as well as it smokes brisket, bakes pie, and everything in between. Now, you can get the delicious, smokey flavor you crave without the tricks or hacks, just one fantastic grill that has that same sleek weber look that everyone has grown to love. Let's take a look at what this fantastic 2020 model has to offer, and let's all step up our grilling game just a little bit this year!
The Grill
First, let's take a look at this grill together, shall we?
That right there is one good-looking grill!
The Features
The Smokefire series boasts a bunch of unique features that set it apart from the competition. Here's the SparkNotes version straight from the source:
1. Fast Preheat
This grill gets up to heat FAST. Pellets are fed through a short, variable speed auger, and then fall directly above the heating element. No fuss, just fire, heat, and the perfect steak.
2. Reduced Pellet Jams
The DC-powered Responsive Incline Drive engine was specially designed to help prevent auger jams. Jam on a grill was never a great option anyway, so we're glad Weber helped take this off the table.
3. Gets Hot, Fast
No waffling over knobs and ratios. This baby gets cookin' when you need it, not when it feels like it. Reaching up to a sizzling 600° for the perfect sear. This thing is hot and designed for direct heat to hit the cooking grate.
4. Low Maintenance Cleaning
Angled Flavorizer bars channel grease through the center of the grill and into an easy-to-remove drawer. A grill is about cooking, not cleaning! The faster you get back to a delicious barbecue, the better.
5. Built To Last
One of Weber's biggest problems is that their grills just don't die, and this one will be no different! The durable, porcelain-enameled finish helps prevent rusting, cracking, and peeling. You'll have this baby on your deck for the next decade or more.
The Weber Smokefire Grill is packed to the brim with innovative engineering, all designed to do one thing: smoke the perfect meal. That may sound like a generic list of features you expect from a top-of-the-line grill, but the finished product truly lives up to the hype. For a grill floating around the $1,000 mark, you expect it to perform well, but not exceptionally. Well, this grill does perform exceptionally, which for a grill in that price range is a true treat. The food coming off of this baby was comparable to smokers we've used that have cost $2,000 or more. It is exceptional!
Weber Smokefire EX 6

[button link="https://shopkoopman.com/smokefire-ex6-wood-fired-pellet-grill" size="large" text_size="beta" newtab="on"]BUY ONLINE NOW[/button]

Weber Smokefire EX 4

[button link="https://shopkoopman.com/smokefire-ex4-wood-fired-pellet-grill" size="large" text_size="beta"]BUY ONLINE NOW[/button]
Stay Connected
The Weber Connect app is a new Step-by-Step Grilling assistant that helps you switch between Grill Maestro and Gracious Host on the fly. This app sets you free to tend to your guests, chores, or get in a few extra minutes of relaxing while cooking the perfect meal. It has:
Flip and Serve notifications
Food readiness countdowns
Doneness alerts
Remote Bluetooth®️ and WiFi®️ access
Everything you need to cook a perfect dish while you're on the move.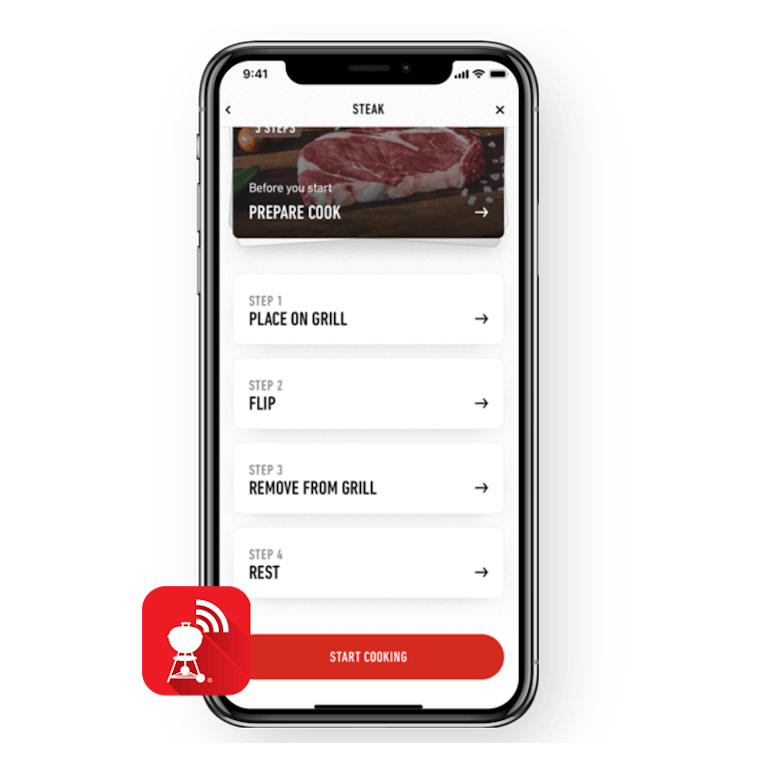 So is it Worth it?
In a word. Yes. In a few more words. Of course it is! We've been loving our Weber Smokefire Grills at Koopman Lumber, and are excited to get you home with a grill of your own. If you're looking to own a delicious pellet grill from Weber, then head over to Shopkoopman.com and order one online! We deliver, assemble, and remove your old grill free of charge on most models. Getting a brand new Grill has never been easier!