In the world of decking, no company has taken over quite like Trex has. Founded in 1996, it quickly became an industry leader and staple of many decking professionals due to their high quality, eco-friendly decking solutions.
Trex is a unique company that cares deeply about their product, consumers, and industry trends and are constantly updating and refining their processes and products. Here's a quick interview with one of our Trex reps before we dive in. Make sure you watch it, as we feel it really exemplifies who Trex is as a brand!
Trex Decking Products from Koopman Lumber on Vimeo.
If you haven't jumped on the Trex Train yet, let us convince you!
The Top 5 Reasons Pros Choose Trex Decking
1) The Quality is Top Notch
Trex is held to a rigorous manufacturing standard, which means that you can have peace of mind with the decks you build. Trex has invented, defined, and perfected the composite deck category with a lineup of low-maintenance, high-performance, eco-friendly products that fundamentally change the way we live outdoors. Trex is so confident in their decking that they offer an unmatched 25-year warranty + a 25-year fade and stain warranty. How often do you see a company stand by a product with such a hefty guarantee? Not often! This means any deck you make is going to be top quality, and your clients will love it for years to come.
2) Installation is Relatively Easy
Trex is an easy-to-install product for a number of reasons, but the biggest has to be the consistency in manufacturing. Trex is made from 95% recycled wood and plastic products, so unlike traditional wood decking, it's resistant to warping, splintering, and other forms of natural damage. Despite this, Trex is easy to curve, rout, and install. Ripping is a bit trickier, but any imperfections from ripping can be easy to hide.
3) Trex is Built to Last
We already mentioned those sweet 25-year warranties right? Those are posturing, Trex really is made to last. With their production process, they've come up with a durable product that will actually last for 25+ years. These decks don't even need to be restained, just cleaned with some soap and water, or pressure washed (under 3100PSI) to easy maintenance.
Trex is resistant to warping, rotting, cracking, splitting, mold, mildew, and termites. How many wood decks can offer that same peace-of-mind?
4) Trex Makes it All
Trex isn't limited to just composite decking, they make a whole host of products! Just take a look at this handy chart made by Trex: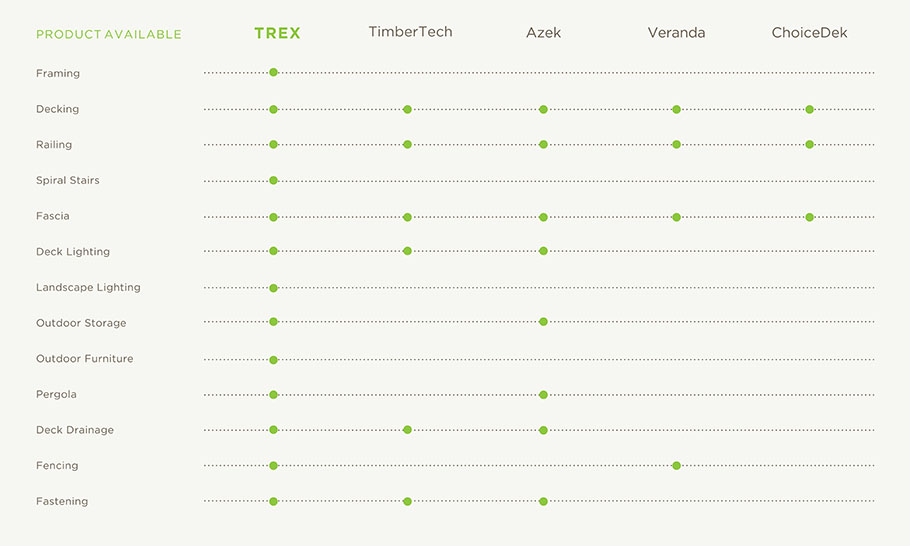 If you're going to build a Trex deck, it makes no sense not to go all out! Everything made by Trex comes with their product quality standard guarantee, so you know you're getting the best.
5) Using Trex is an Easy Way to Go Green!
Trex converts, annually, over 1.5 million recycled plastic bags into their composite decking solution. With their 95% recycled composite decking board, going Trex is a simple way to go Green.
As one of the largest plastic film recyclers in the U.S., Trex saves 400 million pounds of plastic film and wood from landfills each year. So in addition to contributing to a healthier environment, our eco-friendly recycled decking also contributes to your LEED points – not to mention your good karma. Learn about Trex and the LEED Green Building Rating System™.
Created in part by the U.S. Green Building Council, LEED is a point-based system designed to honor building projects that incorporate efficient, cost-effective and safe eco-friendly products. Trex products can add up to five points to your project—four points in the Materials and Resources category for being composed of up to 95% recycled materials, and one point in the Innovation and Design category.
Trex Stocked at Most Koopman Locations – Learn More!
Wrap Up
Trex decking isn't just an expensive alternative, it's a statement about who you are as a contractor. Choosing Trex means saying "I stand for quality and the environment" in equal measure. Still not convinced? Want to learn more? Get a Free Decking e-consult today!